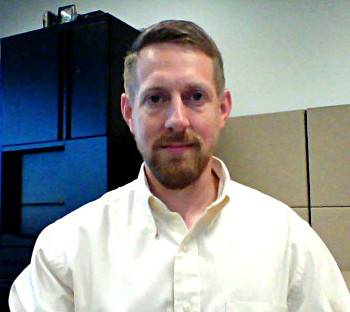 Scott Toth has always enjoyed technology from early in life when he had an attraction to cassette tape recorders, Radio Shack microphones and simple FM transmitters. As a young boy, he enjoyed looking through old electronics junk to see what new contraptions could be made out of various parts. Scott also had a keen interest in the physical sciences, learning from Mr. Wizard and Newton's Apple which inspired him to explore science further into high school and beyond.
Computers were introduced to Scott at an early age with his uncle's Tandy TRS80 and eventually his own Commodore 64. Working on those machines piqued his interest in understanding how computers work, and subsequently Scott has been mostly self-taught on various OSes from Windows to Linux and the most recent virtualization platforms. Although Scott had done consulting work on computers and associated networks for some time, he entered his professional career in information systems after the birth of his first son when, on a whim, he applied to work on a Help Desk and was immediately promoted to the Windows/VMware server team. The latest stage in his IT career has come with the transition into full-time information security. Scott has multiple security certifications including the CISSP, the GIAC Security Essentials Associate, and the GIAC Perimeter Protection certifications. He works in information security for a large multinational captive finance company.
Before his IT life, Scott's career path had a different direction. His original passion is music, and he earned a Doctor of Musical Arts degree in music performance and a Post-Masters Certificate in Music Theory Pedagogy from UNC Greensboro in 2008.  Prior to UNCG, Scott earned a Master of Music degree in music performance from Western Michigan University with a cognate in audio recording, and earned a Bachelor of Music degree in performance from Michigan State University.  Scott has taught music theory at the college level and has performed with many symphony orchestras and chamber ensembles in Michigan and North Carolina and has taught students from age eight through college.
Scott's music experience introduced him to recording which is a good combination of musical understanding and technology. This was a natural fit for his talents, so in his early 20s, Scott owned a small recording business that was focused on recording classical performances and CDs. This experience eventually led him to offer to engineer front-of-house sound at his church in 2003, and a transition from recording to live sound mixing began. In 2005 Scott became the technical director at Lawndale Baptist Church in Greensboro where he typically mixes live sound for services and is responsible for all technology in the church including sound reinforcement, theatrical lighting, multitrack recording, IMAG/web streaming, media, IT services, and large event production, including overseeing a volunteer team of 28 people.
Along with his early interest in electronics came a curiosity for anything related to RF. Being unaware of ham radio, Scott purchased a number of CB radios in his teenage years, using them for two-way communications or to listen to the passing trucker. He first discovered the allure of amateur radio because of an ad for a cheap 2m HT on a popular blog site. Not knowing that it could be so inexpensive to get into the hobby, Scott began to do further research, and as he started to discover the world of amateur radio, he studied for and passed his Technician exam. He got his first HT for Christmas in 2013 and was hooked. Scott immediately studied and passed his General and Extra class exams and became involved with GARA in early 2014.
Since then, Scott has obtained multiple VHF and HF radios and enjoys talking on the W4GSO repeaters and DXing in his spare time. Having started out with a Swan 500CX, his main rig is a Yaesu FTDX1200 to which he has added external professional audio equipment. Scott uses a 80m doublet and a Hustler 5BTV for chasing DX on HF, and multiple radios and antennas for VHF FM work. He enjoys every club meeting immensely and likes to participate in special event stations and field day. Amateur radio has become an important part of his life and he appreciates and enjoys the hobby because of the equipment, but even more because of the people he meets and the things he learns from those around him.
Scott lives in Greensboro with his wife of 20 years and his three sons.